300+ zamestnancov na celom svete


190+ špecialistov na lepidlá
O spoločnosti WEICON
Vo WEICON-e vyrábame špeciálne výrobky pre priemysel od roku 1947. Náš rozsiahly sortiment zahŕňa špeciálne lepidlá a tesniace tmely, technické spreje, ako aj vysoko výkonné montážne pasty a mazivá pre všetky oblasti priemyslu - od výroby, opráv a údržby až po servis. Okrem chemických výrobkov vyvíjame a predávame vysoko kvalitné odizolovacie nástroje pod značkou WEICON TOOLS.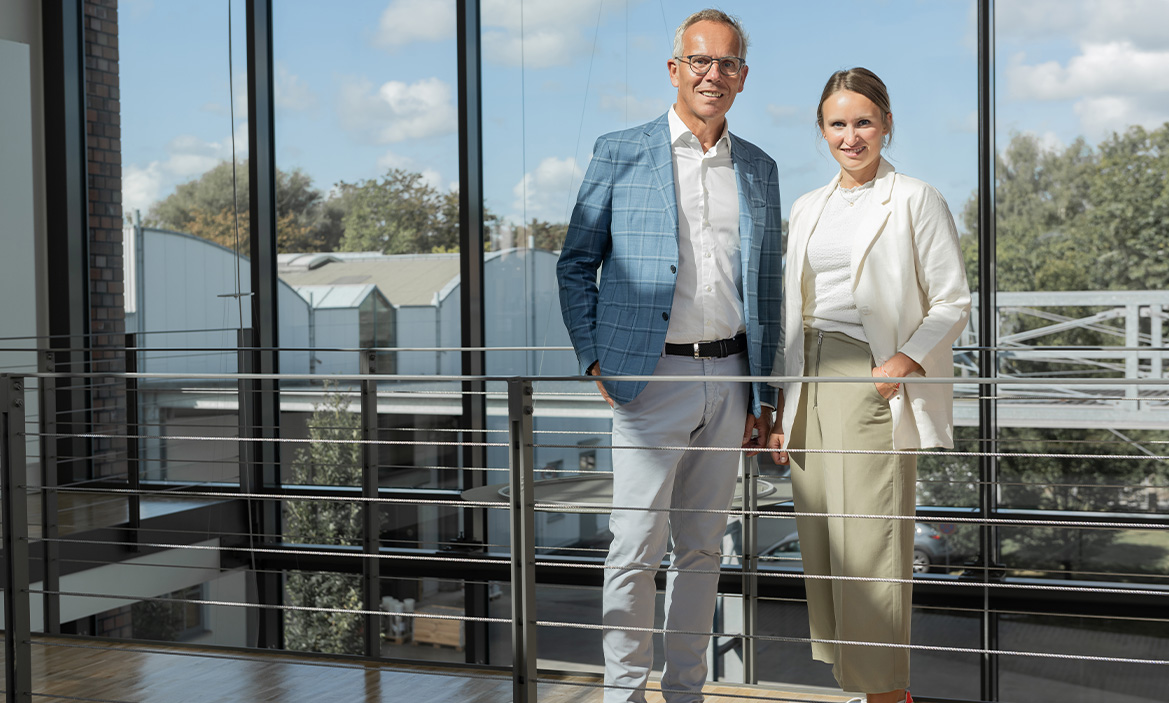 Široký sortiment výrobkov
Sme obzvlášť hrdí na našu širokú škálu viac ako 400 produktov. Týmto spôsobom môžeme vždy ponúknuť to správne riešenie pre aplikáciu všetkým našim zákazníkom a záujemcom, ktorí pochádzajú z najrôznejších priemyselných odvetví a oblastí. Okrem našich vysokokvalitných lepidiel zahŕňa náš sortiment aj technické spreje a technické kvapaliny, montážne pasty a vysokovýkonné tuky, ako aj naše odizolovacie nástroje WEICON TOOLS.

"Sme hrdí na to, že dostupnosť produktu je vyššia ako 99 %."
Ralph Weidling, CEO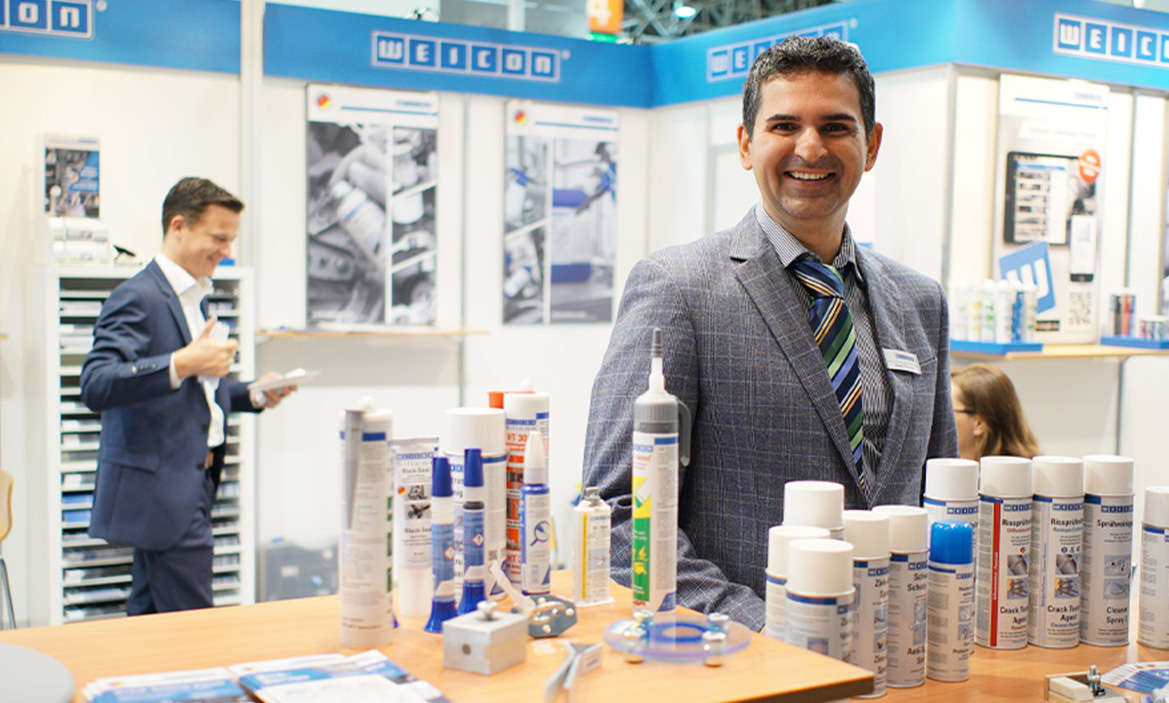 Dostupné na celom svete
Produkty WEICON sú dostupné na celom svete. Prevádzkujeme deväť medzinárodných pobočiek a zastupuje nás viac ako 1200 obchodných partnerov vo viac ako 120 krajinách. Takto vám môžeme ponúknuť celosvetový servis. Ďalej sme každý rok zastúpení na veľkom množstve národných a medzinárodných veľtrhov, kde prezentujeme naše výrobky, inovácie a našu širokú škálu služieb. Neustále sa prispôsobujeme požiadavkám našich zákazníkov, praxi a životnému prostrediu.

"Je pre nás samozrejmé, že sme na správnom mieste v správnom čase a ponúkame našim zákazníkom správne produkty."
Arash Younesi, Export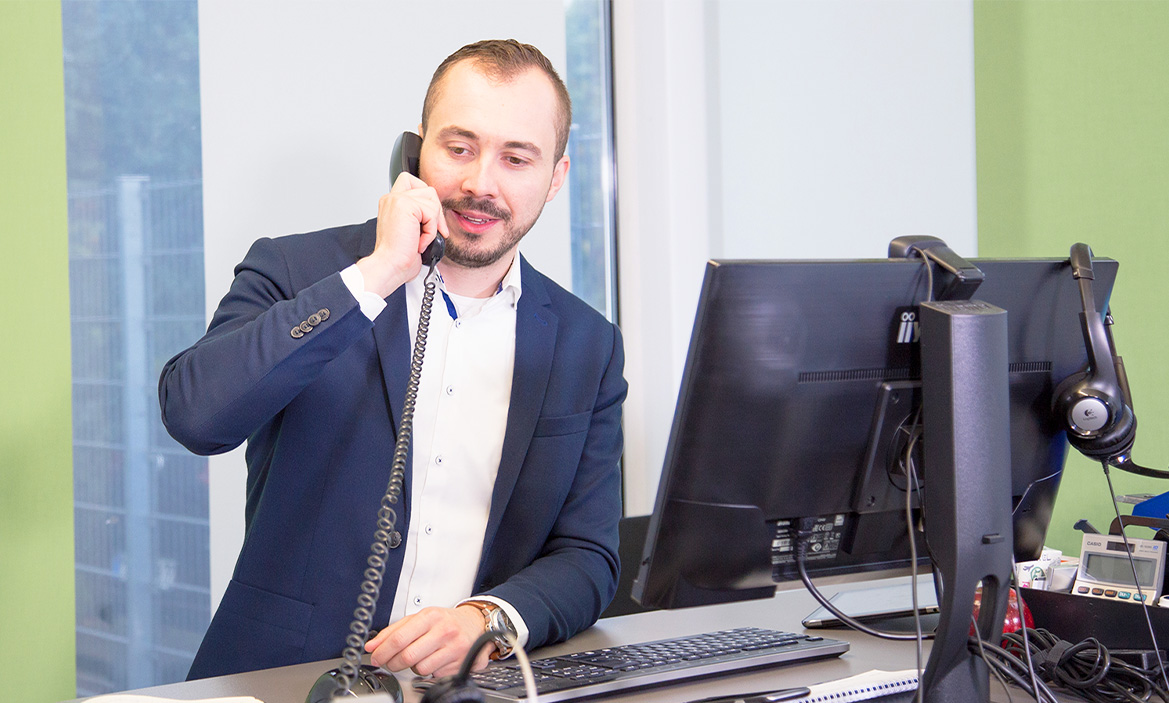 Certifikovaní zamestnanci
Iba s dobre vyškolenými zamestnancami je možné ponúknuť našim zákazníkom najlepšie rady a presne tie služby, ktoré potrebujú. V oblasti vzdelávania a odbornej prípravy úzko spolupracujeme s IFAM v Brémach a uskutočňujeme rozsiahle školiace kurzy pre našich zamestnancov v kancelárii aj v teréne.

"Našou každodennou úlohou je neustále sa rozvíjať. Iba ako tím môžeme zaistiť spokojnosť našich zákazníkov."
Vitali Walter, Sales Director International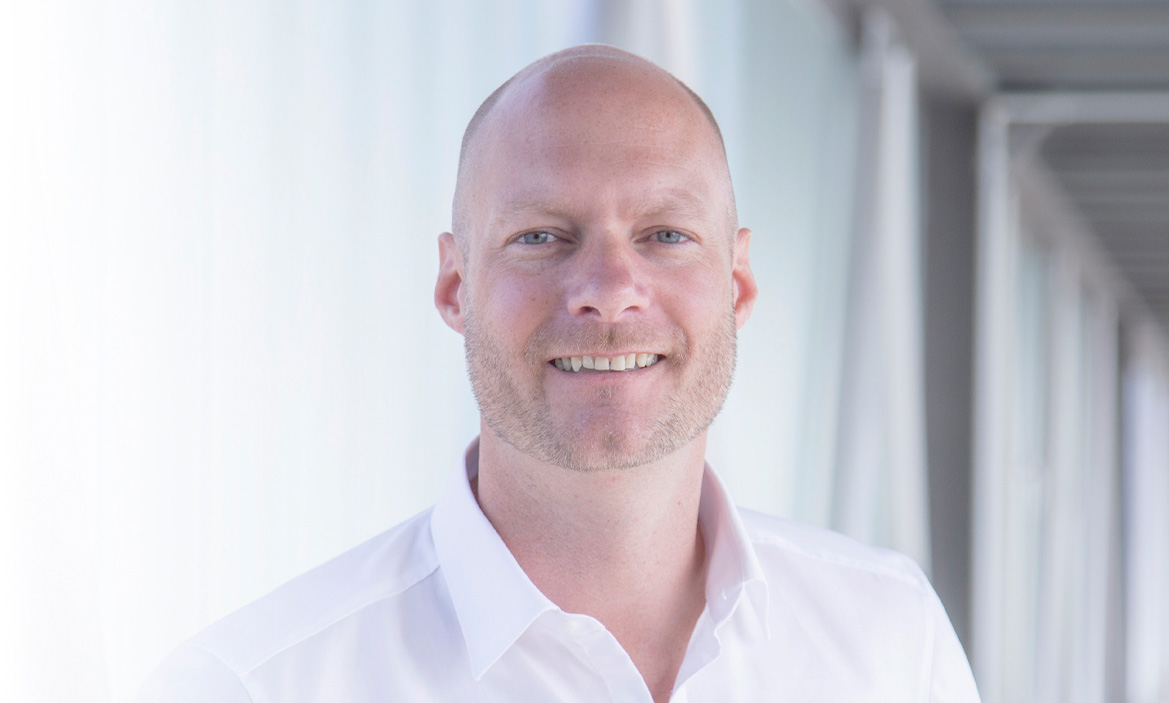 Intenzívna podpora predaja
S radosťou odovzdávame našim zákazníkom naše rozsiahle odborné vedomosti vo forme prednášok, individuálnych produktových školení a školiacich kurzov. Okrem kurzov odbornej prípravy sú k dispozícii ďalšie nástroje technickej podpory. Náš vyhľadávač lepidiel poskytuje orientáciu pri výbere správneho lepidla a aplikácia WEICON poskytuje všetky dostupné údaje o našich výrobkoch kedykoľvek.

"Našou motiváciou je úspech vašej spoločnosti."
Jan Pfingsten, Area Sales Manager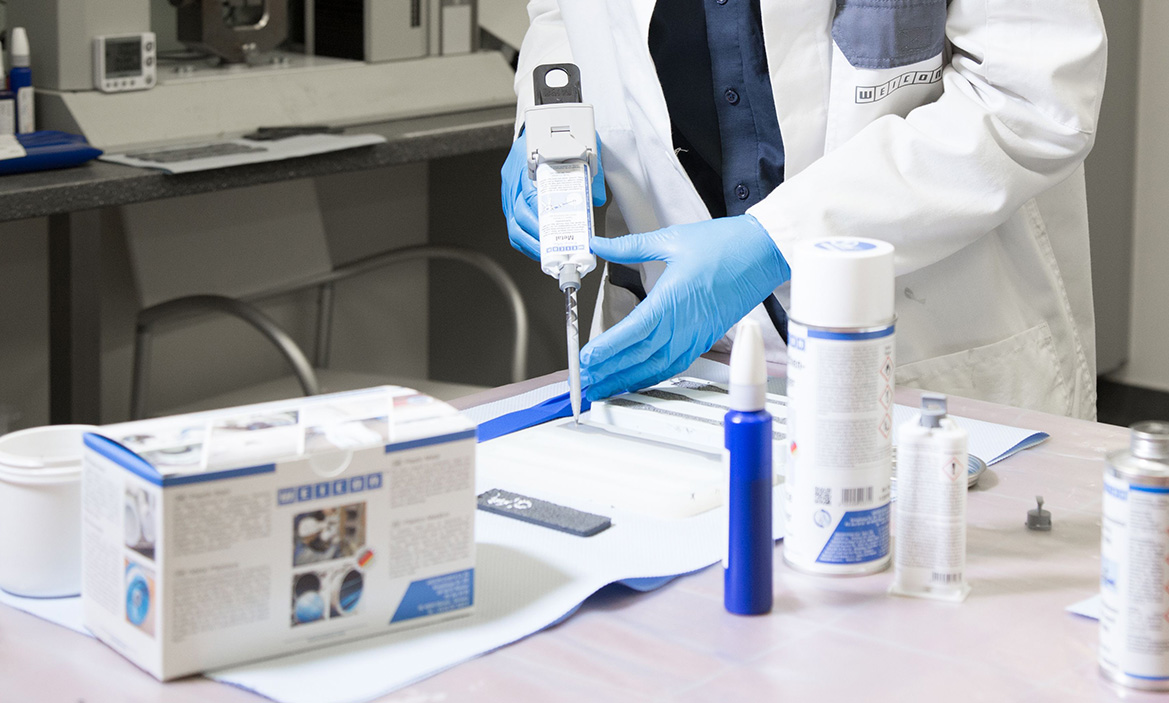 Komplexná ponuka služieb
Radi vykonáme testy lepidla s vašimi vzorkami materiálu v našom laboratóriu a vykonáme dokonalý výber lepidla pre vaše individuálne použitie. Okrem podpory prostredníctvom školení a testov lepenia ponúkame mnoho ďalších služieb, ktoré si môžete prečítať v našom servisnom sprievodcovi. Našim zákazníkom ponúkame rôzne displeje a regály, ako aj rozsiahle brožúry o atraktívnej prezentácii našich výrobkov v špecializovaných predajniach. Okrem toho radi poskytneme obrázky a videá a doručíme naše dokumenty v rôznych jazykoch.

"Pre nás je samozrejmé, že vidíme obchod očami našich zákazníkov."
Martin Ligart, Research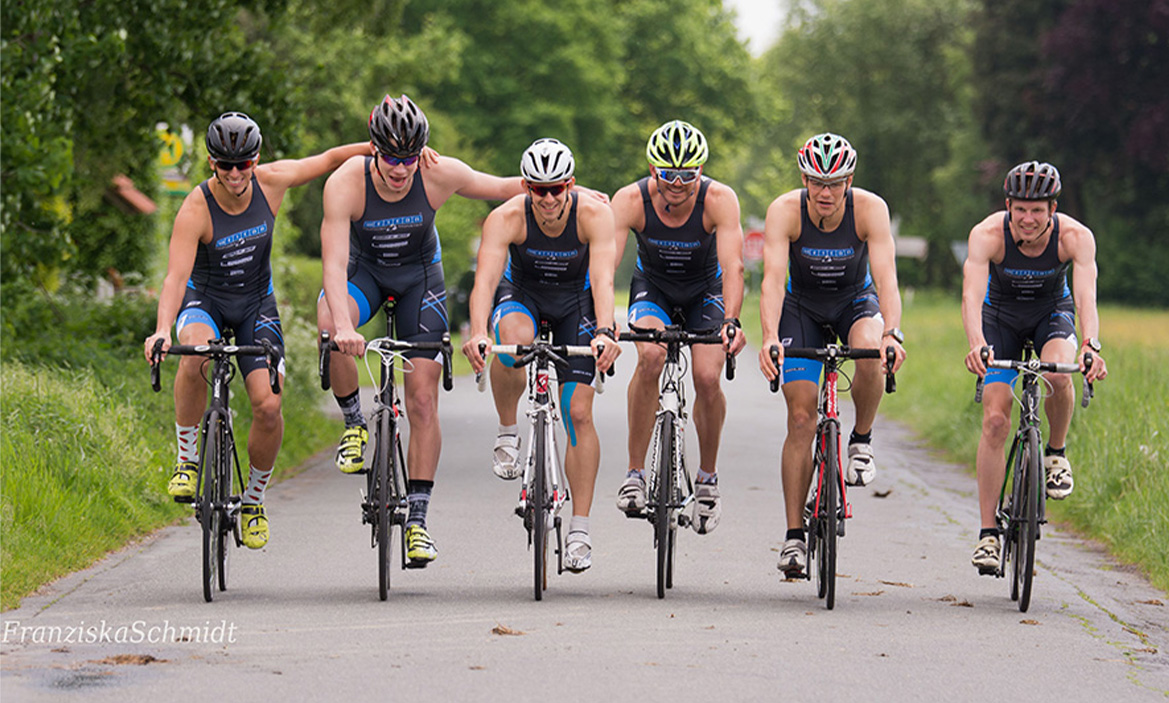 Športové nasadenie
Už roky podporujeme kluby a podujatia v rôznych oblastiach. Vo futbale sponzorujeme množstvo profesionálnych a amatérskych tímov, napríklad Borussia Dortmund. Vo vytrvalostných športoch podporujeme tímy aj podujatia, ako napríklad tím WEICON Tri Finish, Münsterský maratón, alebo beh Ökullus.

"Tímová práca vedie k úspechu."
Ralph Weidling, CEO
WEICON Branches
WEICON products are available worldwide. Next to our headquarters in Muenster, Germany, we run nine international branches and are represented by over 1,200 distribution partners in more than 120 countries. That way, we can offer you our services worldwide. Since 2022, the JELN Imprägnierung GmbH from Schwalmtal, Germany has also been part of our family business. Learn more about our various branches here.