W 44 T® Multi-Spray
One of the best in its category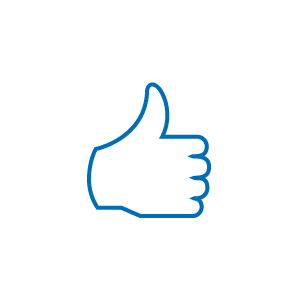 EASY TO APPLY
Multifunctional spray head and 360 degree applicable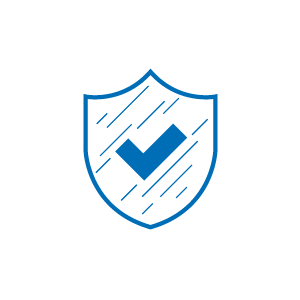 PROTECTS AND PRESERVES
Contains corrosion-resistant substances, which protect metal surfaces against moisture and other corrosive elements.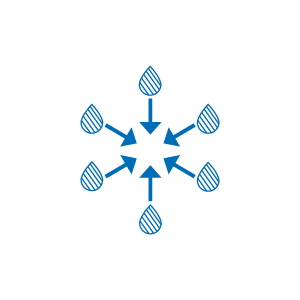 HIGH CAPILLARY ACTION
Dissolves bonds between rust and metal. That way, seized up, stuck or rusty metal parts can be loosened.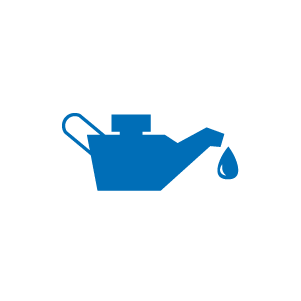 LUBRICATES AND CLEANS
The lubricants contained in W 44 T® spread fast and adhere strongly to nearly all movable components. Creeps under grease,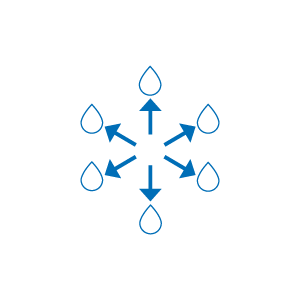 REPELS WATER
Thanks to its special formula, W 44 T® provides high water repellency. Therefore, it is ideal for the fast protection of electrical components. This prevents short circuits caused by moisture fast and easily.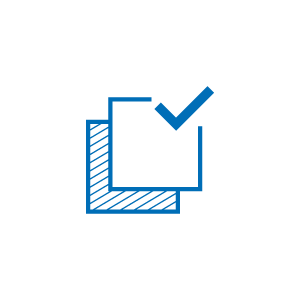 MATERIAL COMPATIBILITY
Thanks to the highly pure, resin- and acid-free oil mixture, the spray does not attack common plastics and sealing materials, and copper and brass surfaces do not tarnish.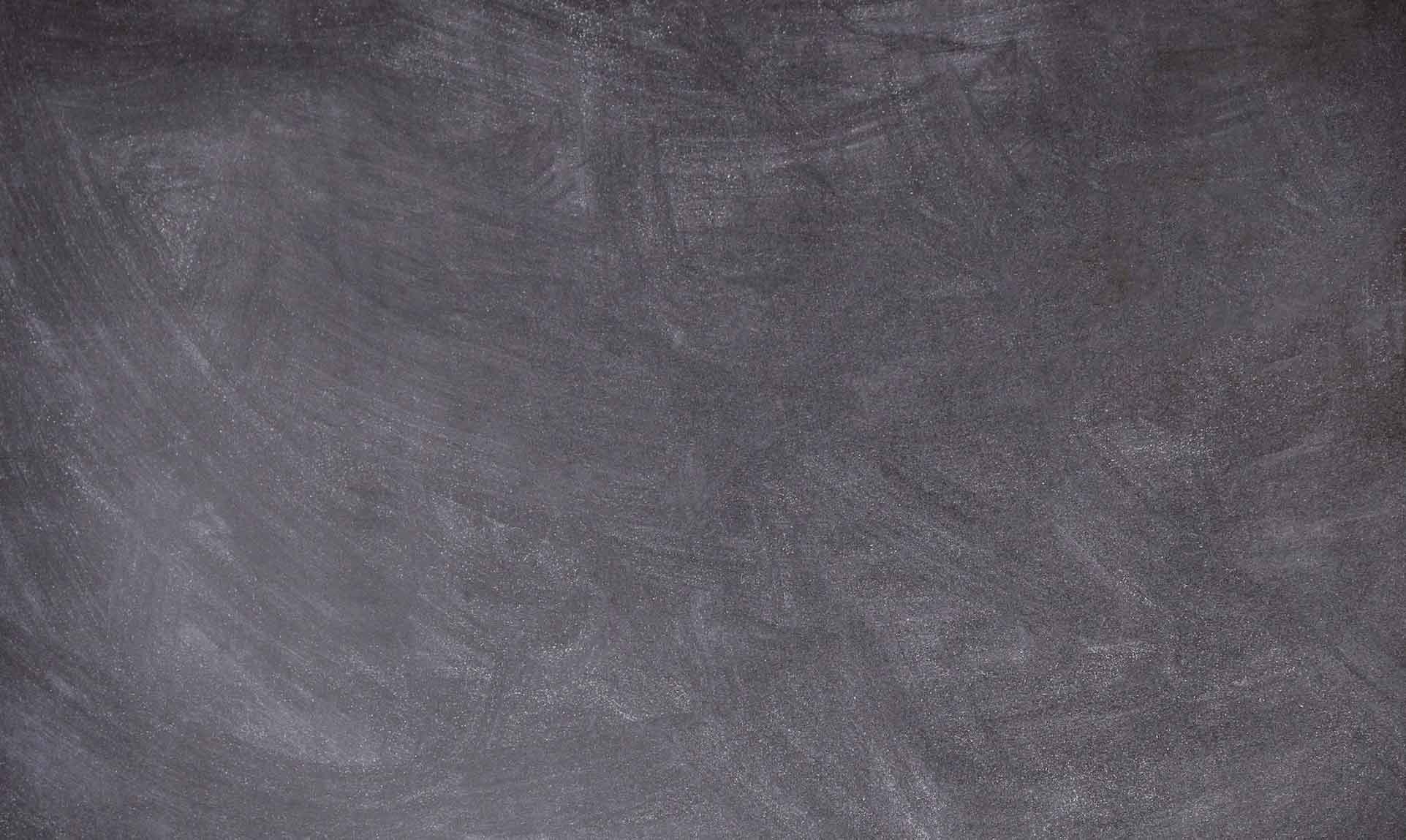 W 44 T® Multi-Spray - multifunctional product with special formula

It shows excellent capillary action and combines corrosion protection, water repellency, lubrication, preservation, and cleaning, all in one product.
Versatile use

It loosens seized up screw connections, bolts, fittings and valves, and penetrates and dissolves rust. It repels humidity from electrical contacts, prevents leakage currents, and makes it easier to start wet motors. W 44 T® is also suitable for use as cutting oil for drilling and cutting processes. The oil eliminates squeaky and creaky noises on hinges, guides, bearings, and all types of joints and couplings. W 44 T® cleans soiled metal surfaces and leaves a long-lasting, razor-thin film, which does not smear or stick and does not attract dust. It protects and maintains all types of tools, machines, and electrical and mechanical precision devices.
500 ml, žltkastá, priehľadná
W 44 T® Multi-Spray
mazací a multifunkčný olej s 5-násobným účinkom
400 ml, béžová
W 44 T®-Fluid
Schmier- und Multifunktionsöl für den Lebensmittelbereich NSF H1
1 L
W 44 T
mazací a multifunkčný olej s 5-násobným účinkom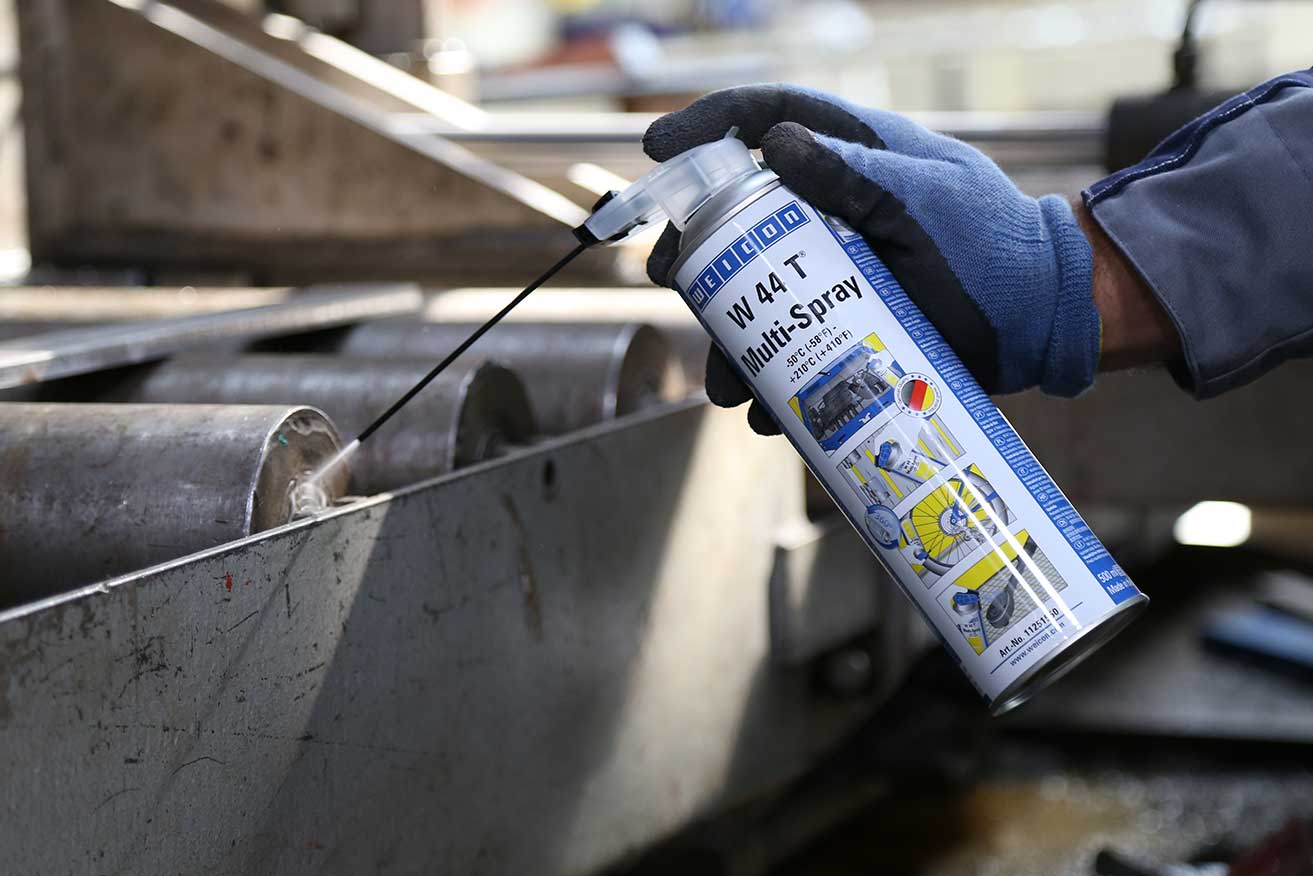 Extensive tests
In our main laboratory, we have carried out a series of extensive tests with our multifunctional oil WEICON W 44 T®.

In the course of this, our technical experts have tested the handling, the effect, and the material compatibility of the multifunctional oil. After the handling of the technical spray, the result of its application in different scenarios were evaluated. As part of this, the lubricating effect, the corrosion protection, and the water repellency were examined.

Lastly, the material compatibility of W 44 T® on plastic and painted surfaces was tested


Application
W 44 T® is very fast and easy to use. Our spray can be applied in a 360 degree radius. This also allows for overhead applications.The spray features a universal spray head, the Double Nozzle, which allows the user to choose between a spray mist and a precise spray jet - depending on what is required.
| | | |
| --- | --- | --- |
| Overhead spray performance 360 degrees | | Universal spray head |


Effect
The lubricating performance of W 44 T® was tested by means of two steel samples lying on top of each other. Our multifunctional oil is very well suited for lubricating precision mechanics.

Here, W 44 T® was able to achieve good results and reliably protects movable components from friction and wear. To test the level of corrosion protection, metal that had been treated with W 44 T® was exposed to salt spray mist for several days.

After the test had been carried out, the metal did not show any signs of corrosion even several days later. In terms of capillary action and water repellency, W 44 T® also achieved very good results.



| | | |
| --- | --- | --- |
| Corrosion Protection (salt spray test in 5% NaCl salt water mist) | | Lubricity (dynamic coefficient of friction) |
| Capillary action | | Water repellency |


Material compatibility
W 44 T® also scored well in these tests. Only very little stress cracking occurred on a polycarbonate surface at +80°C over a test duration of 24 hours.

On a sensitive lacquered surface, no changes were visible after 2 hours at +80°C. Here we could prove in our own test series that W 44 T® does not attack sealing materials (elastomers), like ACM, CR, CSM, FKM, NBR, SQM, and MVQ as well as plastics, like ABS, EPS, PA, PE, PET, POM, PP, PPO, PS, PTFE, PUR, and PVC even in the long term.
| | | |
| --- | --- | --- |
| no changes in the lacquer coating at +80°C over a period of 2 hours | | very little stress cracking on polycarbonate at +80°C over a period of 24 hours |
Additional multifunctional sprays